March 02, 2022
JAKE TIMM RACING ANNOUNCES NEW MAJOR SPONSORSHIP WITH GORILLA MILL
Prominent High-Performance Cutting Tool Manufacturer Will Serve as Co-Primary Sponsor of Jake Timm Racing
Winona, MN (March 2, 2022) – Jake Timm Racing is pleased to officially announce it has signed Gorilla Mill as it's Co-Primary Sponsor for its dirt late model program for 2022 and beyond.
Jake Timm Racing competes in several of the largest dirt track racing events throughout the country with both dirt late model's and dirt modifieds. The Gorilla Mill branding will be showcased on the entire Jake Timm Racing Fleet alongside their other primary sponsor Hurco. Founded in 1974, Gorilla Mill supplies a growing network of global partners with carbide cutting tools for the aerospace, automotive, medical, and manufacturing industries. Dedication to perfection and reliability drives Gorilla Mill to produce variable helix end mills that extend tool life and create a superior tolerance and finish.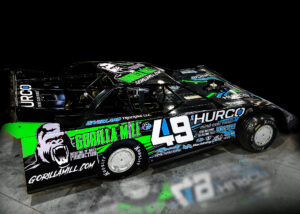 "We're excited to be a major player in this partnership with Jake Timm and the entire Jake Timm Racing Team" said Kevin Cranker, President of Gorilla Mill.  "The bond between racing and the machining/manufacturing industry is very close knit. This is why we have been sponsoring racing teams around the USA for the past several years. Jake and his team are working their way to the top of their particular racing circuit, and we are proud to be a big part of his success and dirt track domination."
Jake has several prestigious wins including the Modified nationals in Fountain City, WI in 2017 and 2019, The Legendary 100 at Cedar Lake Speedway, United States Modified Touring Series wins, and wins with the Dirt Kings Late Model Tour.
Jake is incredibly determined to take his racing career to the top level and is hoping for a breakthrough 2022 season in the Dirt Late Model division, competing with the nation's toughest drivers in World of Outlaws, Lucas oil, MLRA, DirtCar, and more.
"I'm very thankful and excited to have Gorilla Mill join our team, they make the best carbide cutting tools on the market and are a great fit for our business and race program," said Jake Timm. "Gorilla mill specializes in high-performance carbide end mills, drills, and thread mills that perform at the highest level of efficiency and It's critical that we utilize the best performing tooling and equipment to get the most out of our program. They are great people and we hit it off right away and are excited about the new relationship," Timm continued.
The deal is overseen by motorsports marketing agency Drive Motorsports International.
About Gorilla Mill – Gorilla Mill is a global leader in producing the highest quality, high-performance carbide cutting tools on the planet. Visit Gorilla Mill online at GorillaMill.com
About Jake Timm Racing – Jake Timm Racing is a multi-car dirt late model and dirt modified racing team based out of Winona, MN. Please visit, jaketimmracing.com or on Facebook @JakeTimmRacing49 or on Instagram @jaketimmracing.
Back To Top