April 15, 2021
BENJAMIN PEDERSEN ANNOUNCES VRX SIMULATORS AS SPONSOR
Advanced Simulator Manufacturer to Serve as Sponsor of Benjamin Pedersen in the Indy Lights Series
Seattle, WA (April 15, 2021) – Professional racing driver Benjamin Pedersen is pleased to officially announce he has signed VRX Simulators as a sponsor in the Indy Lights Presented by Cooper Tires series.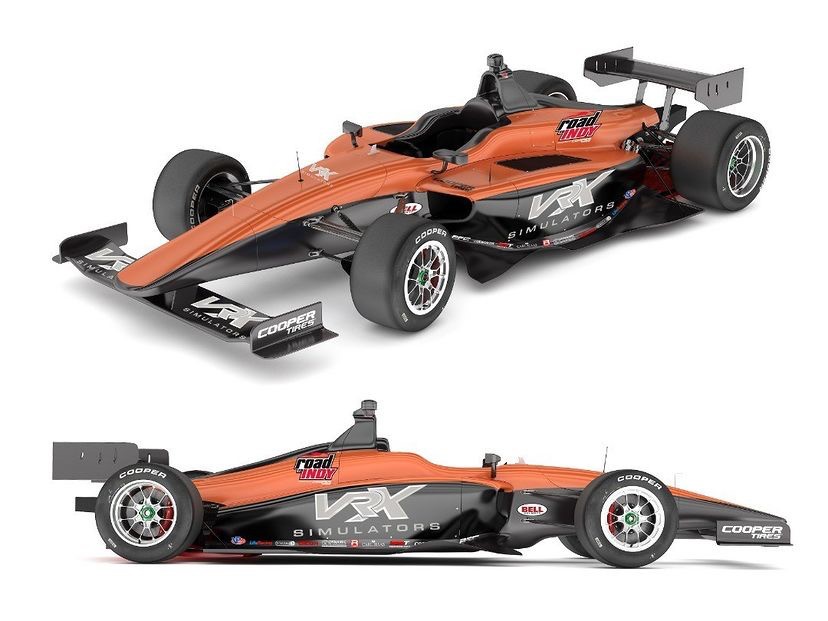 VRX Simulators will serve as a Primary sponsor with Benjamin for the Grand Prix of Toronto and an associate sponsor throughout the entire season. Additionally, as a technology partner, VRX will work with Benjamin and his team to further develop their VRX Live technology, bringing the excitement of a live motorsport event to race fans in a groundbreaking new way as a part of its new soon to be released racing league community.
VRX Live brings the on-board race driver experience to fans through real-time streaming of telematics from a racecar during a competitive race. Video, motion, and sound data are transmitted to a number of VRX motion simulators so that fans can enjoy the ultimate ride-along experience; they feel exactly what the driver is experiencing, at the same time.
VRX is revolutionizing motorsport fan engagement through the imminent launch of its racing league and fan interaction during live races as fans enjoy the actual racing experience at the track, at movie theatres, or at any Location Based Entertainment (LBE) venue that features VRX simulators.
"Benjamin is a great fit for us at VRX and we couldn't be happier to partner with him for his Indy Lights campaign. Benjamin brings a wealth of simulator knowledge and professional B2B opportunities in addition to his list of racing accolades," said Robert Stanners, VRX President. "We're looking forward to working together with Benjamin and his team to further develop our VRX Live technology and to grow our new racing league brand within Indy Lights and the Road to Indy".
Pedersen is one of the most talented race car drivers coming out of the junior ranks with a long history of high-profile accomplishments in both the U.S. and the U.K. and raises eyebrows wherever he races with his speed, professionalism, and determination.
Throughout his career, Benjamin has strategically competed in the highest level of junior open-wheel racing with some of the biggest names to hone his skills in preparation for the prestigious 2021 Indy Lights season.
Benjamin has proven himself to be a fast, capable driver, but the fact he is most proud of is that he is one of the youngest drivers on the circuit and one of the most professional. Benjamin's precision/clean-aggressive driving style has made him a fan favorite.
When Benjamin isn't in the race car, He spends most of his time in the gym focusing on his fitness levels and also enjoys an active lifestyle that includes dirt bikes, snowmobiling, skiing, cycling, action sports, and traveling.
"I'm beyond excited and very thankful to have a new long-term partnership with VRX, it's great to represent a truly premium driving simulator brand with such advanced technology," said Benjamin Pedersen. "I'm immensely proud to represent VRX in the Indy Lights Series and be a part of such a great organization. VRX Simulators make me a better driver and allow me to hone my skills in near real-world racing settings. I'm looking forward to working together with them and growing together in future years," Pedersen continued.
The deal was overseen by motorsports marketing and sponsorship agency Drive Motorsports International.
Learn More about Benjamin at: www.benjaminpedersen.com Follow him on Facebook and on Instagram.
About VRX – VRX Simulators is the leader in ultra-premium driving simulators and was the first to pioneer the first turnkey racing simulator solution for the consumer market. With key moments that include partnering with Turn 10 Studios to debut Forza Motorsport at Road Atlanta and building the world's first Connected Car simulator with Toyota and Microsoft, VRX has spent over 20 years revolutionizing the way humans interact with technology. VRX Live is the latest product that typifies this vision. With a strong ambition for constant development and forming partnerships with the biggest players in the technology and gaming industries, VRX has strived to become the most advanced interactive simulation company in the world. Since 1999, VRX has designed and built the world's most advanced and immersive simulation products for home, commercial, and industrial applications. Our motto has always been: "if you can dream it, we can build it."
Visit VRX online at www.vrx.ca and Follow on Facebook, Instagram, and Twitter
Back To Top